DOST Courseware is a locally-produced, interactive, and highly educational multimedia resource package that offers wide selection to STEM resources.
Resilience amidst the pandemic
In support of the celebration for the 2020 National Science and Technology week (NSTW), DOST-CALABARZON held the #Bangon Webinar Series on Kinabukasan: DOST Courseware.
The resource person, Ms. Josephine S. Feliciano (Science Research Specialist II) explained the components of the courseware in detail. For example, they discussed the origin, history, lessons and resources related to it.
The webinar ran 4 sessions last October 28, 2020 which can be re-watched DOST-CALABARZON Facebook page.
What is DOST Courseware?
DOST Courseware is a science and mathematics e-learning resource that aims to make STEM knowledge accessible and free for students and teachers alike. Developed by the Science Education Institute (DOST-SEI), the software utilizes the use of ICT.
Specifically, the DOST Courseware aims to:
First is to optimize, streamline, and standardize educational STEM lessons;
Second, maximize student learning through the use of ICT; and
Lastly, equip teachers with supplemental tools to assist them in lessons and discussions.
The word courseware was derived from the combination of the words: course + software. Basically, it is an educational software that is free for all.
What lessons can I find on the courseware?
There are 413 lessons available for the MS Windows platform. Additionally, for more information students and teachers may visit the DOST-SEI website.
In 2012, the courseware was finally made available to mobile users. Copare to MS Window, there are 112 total apps for the Mobile Application counterpart. Particularly in Google Play Store which is for Android users.
Following the success of the android launch, it was also uploaded in the Apple Store for iOS users.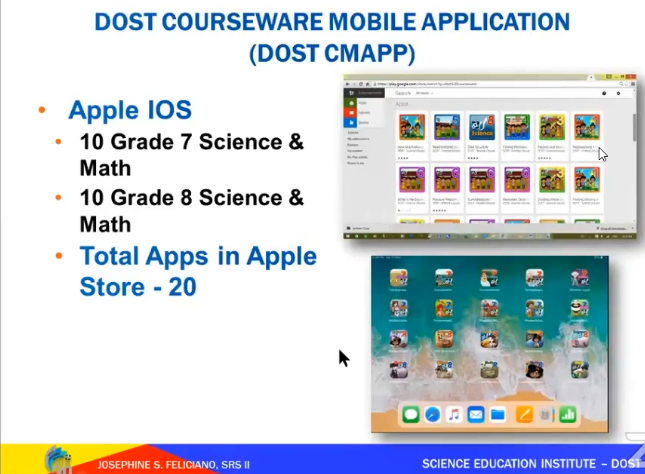 Where Can I Access the DOST Courseware?
There are various platforms where it can be accessed. To list some of it are the following:
Laptop
Desktop PC
Smartphone
Tablet
iPad
What's more easier is that DOST Courseware can be easily downloaded in your selected gadgets. The application is available on Google Play Store for Android users and Apple Store for iOS users.
On the other hand, for computer users here are the following directions on how to install the DOST Courseware.
Movers of Science and Mathematics
Certainly, the webinar truly helped struggling teachers and students cope with the hardships of studying remotely. It did not only share resources, but it also shared hope and inspiration to the attendees.
In promoting the #Bangon webinar series on kinabukasan and other campaigns, DOST has partnered with TRipples. It is the Philippines' digital marketing company that creates positive ripple effects. Moreover, it has a unique platform where its online users can earn cash and rewards. Sign up here to know more.
There are many digital marketing companies out there. But what makes TRipples stand out? It stands out because of its Unique Selling Points (USPs) called 4Cs:
CPC Technology proven effective in driving online traffic
Community of online users and clients
Compensation of our online users with cash and rewards
Corporate Social Responsibility (CSR) that helps the government and non-profits in creating awareness about their advocacies and programs.
Thus, if you have a business and you need help in your digital marketing needs, we are here to help you. Ask us how.
READ: STARBOOKS: A Library-In-A-Box You Can Enjoy With Coffee
Using STARBOOKS In Remote STEM Education Teaching