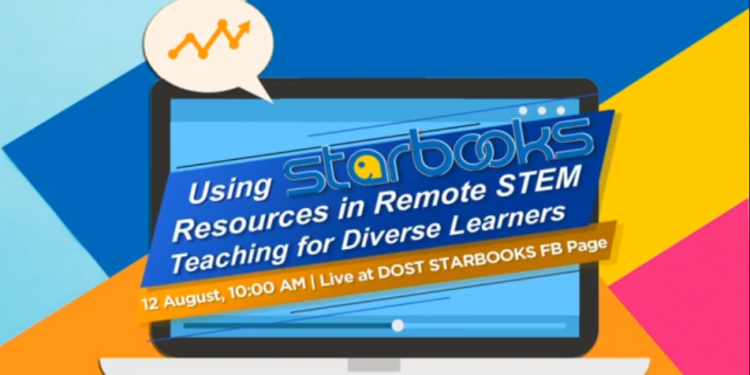 In the past few months, we have faced many challenges brought on by the COVID-19 pandemic. Many public establishments have shut down their operations. As a result, schools have also stopped face-to-face classes. This leaves them with no other choice but to go remote. This has brought uncertainty to many students and teachers.
Recently, DepEd announced that basic education classes will resume on October 5, 2020. This came after the six-week-long postponement ordered by President Rodrigo Duterte.
Meanwhile, some called for an 'academic freeze'. Why? The parents of many students face financial problems. On the other hand, teachers and schools are anxious about the logistics of the new normal mode of education. Thus, President Duterte approved Department of Education Secretary Leonor Briones' proposal to restart the classes. However, many are still wary of this decision. "Are the schools really ready to delivering quality education to students?", is the question in the people's mind.
To bridge this gap, DOST-STII organized a free Webinar Series. Entitled "Teaching STEM Education from Afar", the series aims to provide support to science educators in coping with the challenges brought on by the "New Normal". The institute has partnered with the Unilab Foundation through the Center for Integrated STEM Education, Inc. (CISTEM, Inc.) to make this happen.
Remote Stem Teaching for Diverse Learners
The second part of the STARBOOKS webinar was entitled Using STARBOOKS Resources in Remote Stem Teaching for Diverse Learners. It was streamed live on the DOST-STARBOOKS Facebook page last August 12, 2020. University of the Philippines-Diliman Assistant Professor Tristan C. Orbeta presented online.
The webinar was a success. It had more than 2,300 individuals registered out of the 1,000 target. Moreover, the video garnered 13,000 views as of the date of writing. Lastly, many participants commented to have learned a lot from the engaging presentation.
Read more for a recap of the webinar.
Mr. Torbeta focused on how STARBOOKS can help as a resource for STEM teaching. STARBOOKS is an excellent source of information, especially for STEM Teachers. It offers a variety of topics and also comes in physical pods, website form, and application.
Effective Presentations through Instructional Message Design
Practically, educators may be wondering if their materials are ready for class. Through Instructional Message Design, we can be careful of what we put in slides. For example, in using PowerPoint presentations, the slides should not be text-heavy. Make use of the elements in slides. Ask yourself, "Do they really help students or does it have a negative effect on how students spend their cognitive resources?" Simplifying by being mindful of presentation is effective for students.
For content, Sir Orbeta recommended chunking contents for comprehensive topics. Moreover, he added that teachers can unlock ideas through the use of review.
Then, he also mentioned other principles in presentation such as:
Signaling Principle- Use of graphic organizers and symbols such as Venn diagrams
Multimedia Principle- image and text use that are relevant to each other
Redundancy Principle- avoiding duplicate representation
Coherence Principle- which is when using image and text use, you should avoid irrelevant use.
Modality Principle– two modes at the same time such as sound and text together
Spatial Contiguity Principle– when using image and text in terms of space, put labels properly. Don't use arrows and lines anymore, simply put the label on the part.
Temporal Contiguity Principle– when using image and text in terms or times, use them simultaneously and put it together in one slide.
Personalization Principle– When using language that's conversational and informal and nature. An example is the use of second-person like you and your.
STEM Education Teaching
Afterwards, he explained that the feature of STEM teaching should have the 3 characteristics:
Integrative
Design-Based
Context-Based
Additionally, he mentioned that there are 3 types of Integration, which are:
Multidisciplinary

Disciplines are separate but refer to a common theme.

Interdisciplinary

Students learn concepts from tightly linked disciplines to deepen their understanding

Transdisciplinary

Students apply knowledge or skills from two or more disciplines to solve real-world problems.
In the new normal, many students and teachers find themselves having to adjust learning hours at home. Through the use of cross-cutting concepts, we can address this.
Cross-cutting concepts allow us to make connections clearer. In fact, it helps us see the concepts we study at a macro-level and understand the connection. This method can help ensure the standards are delivered despite the time constraints.
Diverse Learners In STEM Education
There are many different learners in STEM Education. Educators need to know how to address each of their learning needs.
In the framework, Empathize is the biggest circle in the framework. When you anchor things in empathy, you don't just design things that the society doesn't need. This is what makes this problem-solving approach effective because it focuses on human-centered design.
Design Thinking is an innovation opportunity. When you use full DTP for projects, you are allowing students to innovate. STARBOOKS offers a compilation of S&T News/Articles wherein you can find investigatory projects. Users can use the design algorithm called SCAMPER.
Design thinking can also be used based on their current context, such as using local contexts like "Typhoons" in our country and how they can innovate ideas. STARBOOKS also offers resources regarding this topic.
The STARBOOKS website and application houses a massive resource for DOST Technologies. Sir Orbeta recommended that educators use these resources to get problems from existing solutions. Then they can allow students to innovate through design thinking.
Educators can check the STARBOOKS resources for their lessons and exercise to be used in STEM Teaching to be more fun.
The Upcoming Part 3 of the STARBOOKS Webinar
This is the last leg of the 3-Part Webinar Series organized by DOST-STII through DOST STARBOOKS in partnership with Unilab Foundation through CISTEM, Inc.
To register click the link https://bit.ly/STARBOOKSWebinarPart3.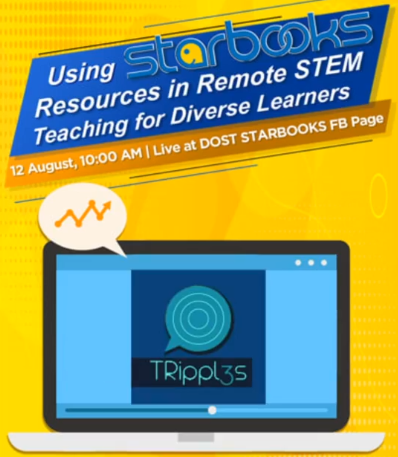 In promoting its Webinar Series and its other campaigns, STARBOOKS has partnered with TRipples, the Philippines' digital marketing company that creates positive ripple effects. It has a unique platform where its online users can earn cash and rewards. Sign up here to know more.
There are many digital marketing companies out there. But what makes TRipples stand out? It stands out because of its Unique Selling Points (USPs) called 4Cs:
CPC Technology proven effective in driving online traffic
Community of online users and clients
Compensation of our online users with cash and rewards
Corporate Social Responsibility (CSR) that helps the government and non-profits in creating awareness about their advocacies and programs.
Thus, if you have a business and you need help in your digital marketing needs, we are here to help you. Ask us how.
Read: STARBOOKS: A Library-In-A-Box You Can Enjoy With Coffee