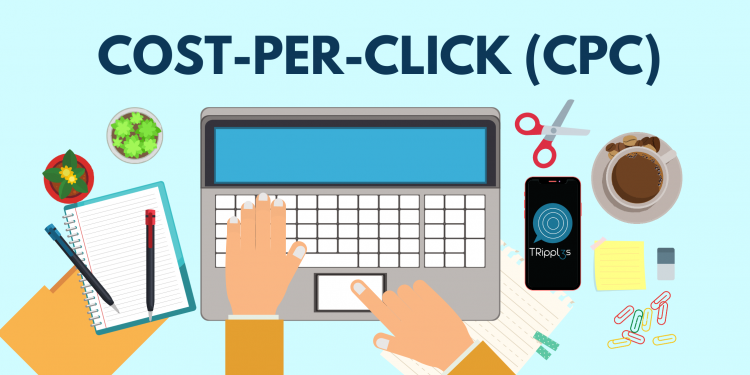 Why is Cost-Per-Click (CPC) Important?
Today, we live in a digital age. In other words, almost everything is now available online. Also, due to coronavirus pandemic, most people have no other choice but to go online. Meetings, education, and business operations are just a few examples. As a result, more businesses struggle to get their businesses, products, and services out there.
As such, businesses find ways on how they could reach out and capture their target market online. This is the perfect time where digital marketing comes in handy. Particularly, digital marketing companies like TRipples, offers a unique marketing service called CPC to address this need.
What is Cost-Per-Click (CPC)?
Cost-Per-Click (CPC) is one of the most popular advertising strategies today. Particularly, Sprout Social defines it as a paid advertising term where an advertiser pays a cost to a publisher for every click on an ad. Simply put, it refers to the actual amount of money you pay per click when running an ad campaign. Likewise, it is also known as Pay-Per-Click (PPC).
Nowadays, many businesses and digital marketers use CPC for calculating the costs of clicks acquired through CPC advertising. For example, every click an advertisement gets is considered as one impression or visit to your company's product or service. In other words, it counts as attention captured by a buyer or consumer searching for products/services.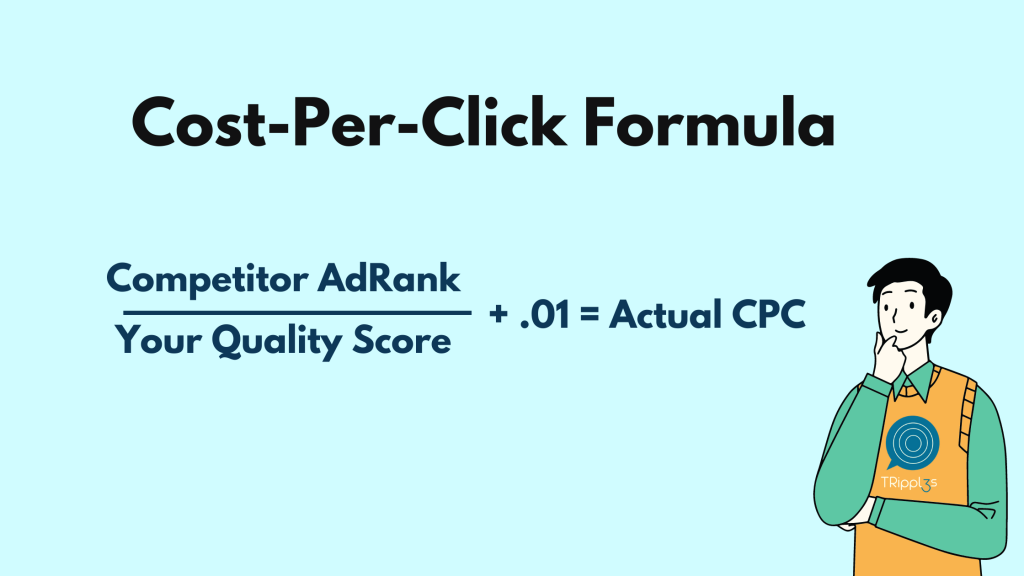 Meanwhile, Google Ads calculates CPC using this simplified formula. First, divide the Competitor AdRank (closest opponent in the ranking of ads) with the Quality Score. Second, the quotient is added to .01 and after that, the result will be the Actual CPC.
Advantages of Cost-Per-Click (CPC)
Cost-Effective

First, CPC is cost-effective. You will only pay whenever a user reaches your website. In short, you won't have to waste your money with uncertainty. In addition, you can decide how much you want to spend on your advertisements.

Targets Specific Audience

Next, you can make sure that your advertisement will reach the target audience. Furthermore, you can also choose which target location, device, or language you want.

Adjustable

Moreover, with CPC, things can be adjusted. As mentioned before, you can decide how you want your advertisement to run. You can make small adjustments to ensure the perfect setting for your ad.

Measurable

Then, the effectiveness of your campaign can be measured. As a result, you can figure out what you need to improve and optimize.

Consistent

Furthermore, depending on your plan, your campaign can enjoy consistent traffic.

Fast

Lastly, you can quickly see the impacts and results of CPC on your advertisement. You won't have to wait for months to get your advertisement to be noticed.
TRipples, the CPC Pioneer in the Philippines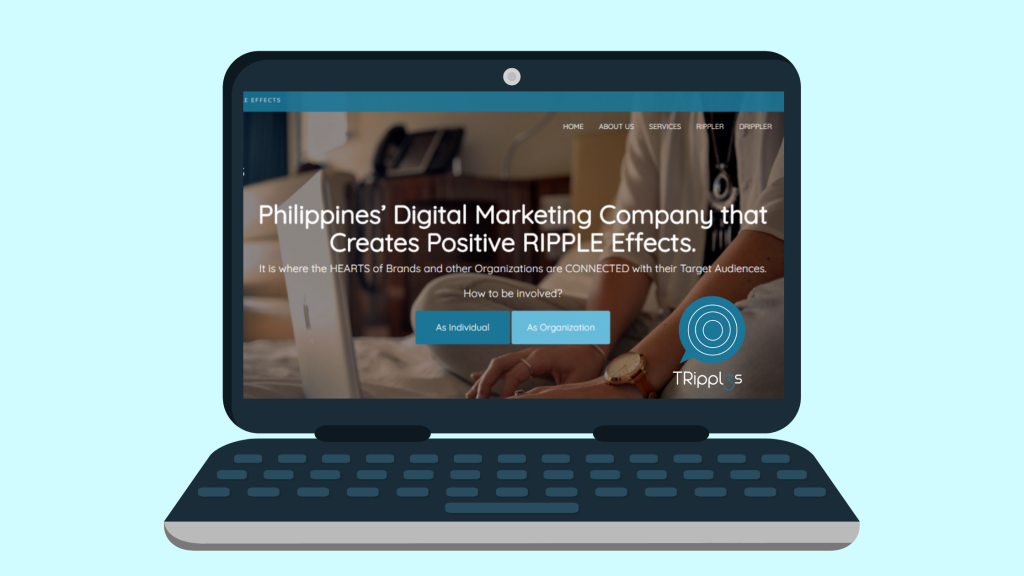 Surprisingly, TRipples is the only company in the Philippines that offers and uses its own Cost-Per-Click (CPC) technology. Its CPC platform is one-of-a-kind. There is no competition. No bidding process. Also, there are no complicated steps to do. It's just plain and simple. But the bottom line is, it is proven effective in driving traffic to websites or Facebook pages. As a result, your target customers would know that your company exists.
What are the Features of TRipples' CPC?
To understand TRipples' CPC technology, you need to know first its features. Refer to the list below to know more.
Online Campaigns
First, you have to familiarize yourself with TRipples' Online Campaigns. These are CPC Campaigns featured in TRipples' platform.
Specifically, there are 2 different types of Online Campaigns. One is the Cash Campaign. It is the type of campaign where money or cash is involved. Users can earn cash whenever they share such campaigns. On the other hand, the second type is Point Campaign. It is the type of campaign where there is no money involved. Instead of cash, users would earn points. However, these points could be converted into rewards. Rewards come as load, vouchers, freebies, etc.
2. Landing Page
Second, you need to know what Landing Page or LP is. LP is the web page or FB Page post where you want to direct your target audiences. It could be a page about your products and services. Moreover, it can also be an event launching your latest product. Or, it can be an Event Page for your upcoming webinar. Name it!
3. Campaign Dashboard
Third, you have to know TRipples' Campaign Dashboard. It is a place in TRipples CPC technology platform. Specifically, it is where the CPC Campaigns are located.
Uniquely, TRipples has an online community of users called Ripplers. They are the ones who are active in sharing TRipples' CPC Campaigns. For the Ripplers, the Campaign Dashboard is their market place. They can choose which CPC Campaigns they want to share with their friends.
Amazingly, TRipples' Campaign Dashboard is capable of tracking down progress. Specifically, it monitors and shows users' cash or points earned for every Online Campaign shared.
4. Unique Visits
Fourth, you have to understand Unique Visit(s) or UV(s). A UV refers to the actual number of times the LP is visited by unique visitors. In other words, it is the total number of actions.
5. Unique Visitor
Fifth, you need to know also what a Unique Visitor is. Alexa defines it as "the number of people that visited your site over a selected time period".
6. Compensation
Well, we know what "Compensation" is. Dictionary.com defines it as, "the act or state of compensating, as by rewarding someone for service".
Remarkably, TRipples compensates its Ripplers. Particularly, it comes whenever they share the Online Campaigns found on the Campaign Dashboard.
7. My Wallet
Penultimately, there is MyWallet. It is one of the greatest features of TRipples' CPC Technology. MyWallet collects and presents the total cash earned by a user.
8. Encashment
Lastly, TRipples' CPC technology is capable of encashment. It is simply making the cash in MyWallet available as cold cash. Notably, once a user's money in his/her Wallet reaches the minimum, it can be converted into cold cash.
TRipples' Cost-Per-Click (CPC) Packages
Thankfully, TRipples combines its CPC technology with its other services to form a bundle of services. Especially, this bundle of services is called CPC+. It comes in two different packages depending on the customer's goals. For example, if the customer wants purely organic reach, then Basic CPC+ is the option. On the other hand, if the customer wants to mix organic with automated PPC, then Advanced CPC+ suits that customer.
BASIC CPC+
Online Campaigns
Affiliate Marketing
Social Media Marketing
Content Marketing
ADVANCED CPC+
Online Campaigns
Affiliate Marketing
Social Media Marketing
Content Marketing
Online Advertisement
Lastly, Aside from the above-cited services, TRipples also offers Website Development, Mobile App Development, and Search Engine Optimization (SEO).
What Makes TRipples Unique?
There are many digital marketing companies out there. But what makes TRipples stand out? Basically, it stands out because of its Unique Selling Points (USPs) called 4Cs:
CPC Technology proven effective in driving online traffic
Community of online users and clients
Compensation of our online users with cash and rewards
Corporate Social Responsibility (CSR) that helps the government and non-profits in creating awareness about their advocacies and programs.
Get in touch with TRipples today and let us create ripple effects in the society, together.
Read: TRipples Launches "Oplan Big Bro" To Help Fight COVID
COVID-19 Projects Relive Pinoys' "Bayanihan Spirit"