In the past few months, we have faced many challenges brought on by the COVID-19 pandemic. Many public establishments have shut down their operations. As a result, schools have also stopped face-to-face classes. This leaves them with no other choice but to go remote. This has brought uncertainty to many students and teachers.
Recently, DepEd announced that basic education classes will resume on October 5, 2020. This came after the six-week-long postponement ordered by President Rodrigo Duterte.
Meanwhile, some called for an 'academic freeze'. Why? The parents of many students face financial problems. On the other hand, teachers and schools are anxious about the logistics of the new normal mode of education. Thus, President Duterte approved Department of Education Secretary Leonor Briones' proposal to restart the classes. However, many are still wary of this decision. "Are the schools really ready to delivering quality education to students?", is the question in the people's mind.
To bridge this gap, DOST-STII organized a free Webinar Series. Entitled "Teaching STEM Education from Afar", the series aimed to provide support to science educators in coping with the challenges brought on by the "New Normal". To make this happen, the institute partnered with the Unilab Foundation through the Center for Integrated STEM Education, Inc. (CISTEM, Inc.).
Using STARBOOKS Resources in Designing Assessment Activities for Remote Learning
Certainly, this third and last webinar of STARBOOKS was a blast. It had 17,000 views after 2 days, the highest in the series. The series was streamed live on the DOST-STARBOOKS Facebook page last August 19, 2020. The speaker for this last leg of the webinar was Mr. Melvin T. Magsayo. He is a STEM teacher at Iligan City National High School and the Deputy Director of the Center for Integrated STEM Education, Inc.
This article is a recap of the third webinar. It helps you Design Assessment Activities for Learning with STARBOOKS.
Challenges in the 'New Normal' Remote Learning Environment
In Mr. Magsayo's webinar, he mentioned that he conducted a survey on the struggles that most educators face today. The majority of the respondents acknowledged that their struggle on the assessment platforms and activities.
During the live webinar, he also asked the attendees to comment on their struggles on the transition to online learning. Most of the highlighted problems were the difficulty of conducting hands-on activities, poor or no internet connection, and having a hard time searching for resources that will be used in the subjects.
As we all know, one of the most pressing issues today is how to bring education to students given the challenges.
In addressing the 13% who have trouble looking for learning resources, STARBOOKS has launched their online and mobile platform which are available and free to all. This mobile app education resource can now be access as students shift to remote learning in the new normal. You can download the application here.
Rethinking Assessments with Purpose in Mind
Unlike in the traditional set-up, the assessment part of learning is particularly critical because nowadays, it takes place outside the classroom. Because of this, there have been many challenges in the transition to remote learning.
Furthermore, in the webinar, Mr. Magsayo also asked the participants about their challenges with assessment. Aside from the examples listed in the picture below, the Webinar participants said:
Some students are not independent learners
Authentic assessment is one of the limitations
Accessibility
Validity authenticity of assessment results
Meanwhile, in Lorna M. Earl's book entitled Rethinking Assessments with Purpose in Mind, she highlighted three important purposes of assessment.
Assessment

FOR

Learning

Basically, this happens during the learning activity and often more than once. An example of this is the Formative Assessment.

Assessment

OF

Learning

For example, Summative Assessment serves as evidence. It shows signs and proofs of the child's learning for parents, other teachers and the students themselves.

Assessment

AS

Learning

Reflective Assessment is an example of this. It helps with monitoring future directions.
Furthermore, Mr. Magsayo emphasized that effective assessment happens when teachers, students, and parents work together. They collaborate with each other on what the students are learning and how learning is going. Together, they work on ways to adjust and readjust the learning process as days and situation change.
How Should We Best Conduct Assessment?
Prioritize Learning

Above all, teachers should deepen their understanding of the most learning competencies or expected student learning outcomes.

Select Assessment Activity

Identify acceptable evidence. Assessment of learning in a remote environment can take in many forms. Moreover, each assessment activity should serve a specific purpose as part of the overall learning experience.
In addition, determine the purpose of each assessment.
For instance: Examining student's ability to retain key concepts? Use traditional assessment or objective tests)

Safeguard Academic Integrity

There are many assessment activities that ensure integrity.
For example, teachers can use assessments with time-limits
Resources for Designing Assessment Activities?
Given all these, are you worried about where to get resources? Well, don't worry because you can design assessment activities for learning with STARBOOKS.
You can easily access the STARBOOKS website and search various resources that can be adapted for your assessment activities. Just follow these simple steps:
1. Go to www.starbooks.ph and log-in.
2. Look for the K-12 resources
3. Look for the specific grade level you are teaching
In this example, let's click on Grade 7 Science.
4. Access resources from 1st-4th Quarter
In order to access, you must log in to FrontLearners. Use these credentials to be able to log in:
5. Access hundreds of resources and quizzes!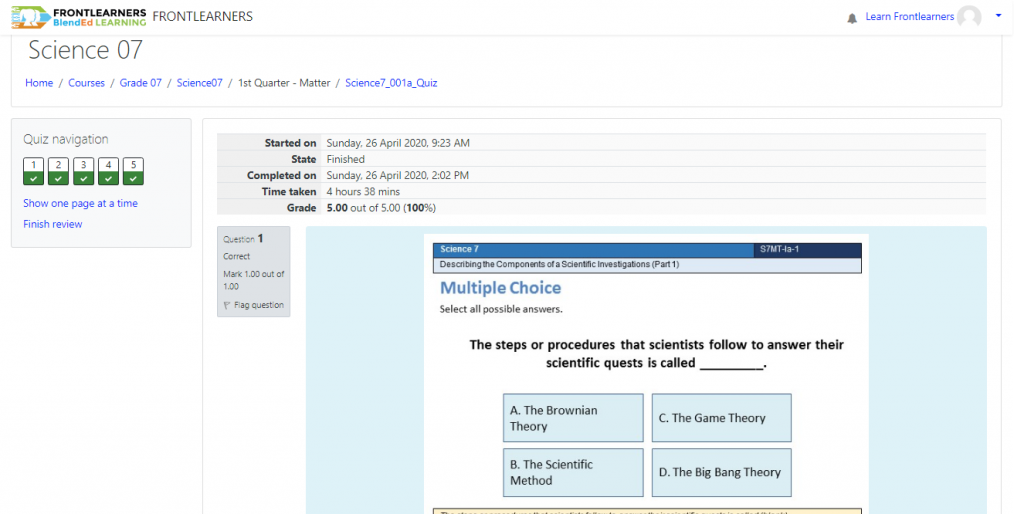 Design Assessment Activities for Learning with STARBOOKS
In promoting its Webinar Series and its other campaigns, STARBOOKS has partnered with TRipples, the Philippines' digital marketing company that creates positive ripple effects. It has a unique platform where its online users can earn cash and rewards. Sign up here to know more.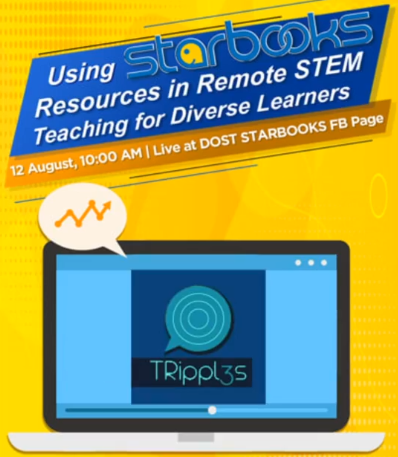 There are many digital marketing companies out there. But what makes TRipples stand out? It stands out because of its Unique Selling Points (USPs) called 4Cs:
CPC Technology proven effective in driving online traffic
Community of online users and clients
Compensation of our online users with cash and rewards
Corporate Social Responsibility (CSR) that helps the government and non-profits in creating awareness about their advocacies and programs.
Thus, if you have a business and you need help in your digital marketing needs, we are here to help you. Ask us how.
READ: STARBOOKS: A Library-In-A-Box You Can Enjoy With Coffee