Top 5 Things You Need to Know about One of the Greatest Wedding Photographers of Our Time
Great moments need to be captured. Say for instance, special events like weddings, debuts, birthdays, anniversaries, awards night, and many more, special moments during these special occasions have to be documented – either through pictures or videos or both. Why? It is because they create lasting memories. Everyone loves to remember the food, the music, the surroundings, the moods, the emotions, the people and the experience that would transpire during these extraordinary affairs.
However, not all the pictures and videos taken by guests or by the event organizer or host are worth the stare. This is the time you need somebody to do it for you, if you are looking forward to looking back at the great moments of your special occasions.
There is one man in this face of the earth that could help you capture those moments that you surely don't want to miss. His name is DANNY IGNACIO.
Read on to get to know the man hailed as one of the greatest wedding photographers of our time.
Mr. Danny Ignacio is the man behind Vignette Photography, one of the longest running, multi-awarded wedding photo studio in the Philippines. He founded Vignette (pronounced as /vin'yet/) in 1988 which came from its old name AD Photography. Existing for more than 3 decades, Vignette Photography remains classical, holding dear the meaning of its name. Google defines Vignette as "a small illustration or portrait photograph which fades into its background without a definite border"
Having built his credibility and stature in the wedding industry, Mr. Danny Ignacio remains one of the most sought-after wedding photographers in the country. Here is the list of the Top 5 Things You Need to Know About One of the Greatest Wedding Photographers of our Time.
1. In-House Wedding Photographer of the 7 Favorite Event Venues in Manila
Being one of the pioneers and the greatest among photographers, Danny, as called by his counterparts, serves as the in-house wedding photographer of these 7 favorite event venues in Manila:
Diamond Hotel
1 Esplanade
Illustrado Gardens
City Garden Hotel
Ibarra's Garden
Plaza Ibarra
Patio Ibarra
If you want your great moments to be captured by this great photographer, you may choose any of these event venues and you will definitely have him take your unforgettable memories to the highest level.
2. Internationally-Known Expertise
Because of his remarkable works, Mr. Ignacio's expertise overflew and echoed outside the country. He is the only Filipino photographer who became an accredited full member of the prestigious Australian Institute of Professional Photography (AIPP). Not only in Australia is he known and recognized. He is also an active member of the Wedding and Portrait Photographers International (WPPI) based in the United States of America or USA. He also upkeeps his skills by attending WPPI's annual convention.
3. Received WPPP's Photo of the Year Award
Year after year, a photo and video congress is being held by the local counterpart of WPPI – Wedding and Portrait Photographers of the Philippines (WPPP). Said congress is where photo and video enthusiasts gather for trade shows, seminars, workshops, and for an awards night.
In the Awards Night of WPPP's latest congress in Trinoma Mall Activity Center held last September 28, 2019, Mr. Ignacio's entry to the Bride Alone Category was selected as the Photo of the Year, leaving the multitude of other entries behind.
Here is the breath-taking picture which reigned in the overall battle of pictures submitted in the event.
4. Photographer who Bagged the Most Number of First Place Awards
For the whole year last year, Sir Danny was recognized as the "Photographer-Who-Got- the-Most-Number-of-'First Place Awards'" across various categories. His works are truly remarkable and even recognized by his contemporaries in the industry. As such, he was distinguished or classified as Master Wedding Photographer or MWP by the WPPP. Do you want to see how great his works are that made him be distinguished as such? Look at these jaw-dropping pictures and be amazed!
First Place – Wedding Recessional Category
First Place – On the Spot Contest (Palawan with Model) Category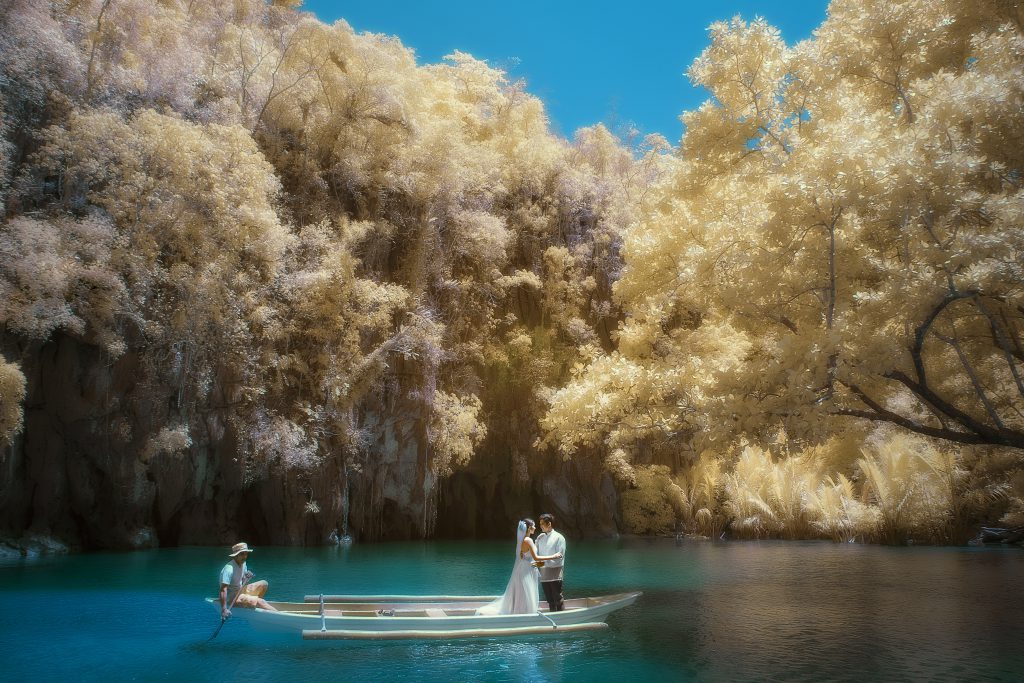 First Place – On the Spot Contest (Palawan People/Events/Places) Category
Those pictures are amazing, aren't they?
5. Father of Infrared Photography
Infrared Photography has been the recent if not the latest trend in wedding photography. Infrared Photography or IR Photography, according to Picture Correct, is a special type of photography which uses films or sensors that have infrared light sensitivity to add special effects, like false colors, to photographs.
In the Philippines, Mr. Danny Ignacio pioneered the use of IR Photography.
The amazing pictures of Mr. Ignacio above which took the top most places in their respective categories are classic examples of IR photography.
Picture Correct added that IR photography is the best choice for taking pictures in the dark room, about wildlife, during war and in creating chalky appearance on the photograph.
Here are some more examples of IR Photography by Vignette Photography. These pictures also bagged their respective sweet spots at the WPPP Photo and Video Congress 2019.
Category: Worm's Eye View Shot (Wedding Day) " First Place"
Category: Creative Prenup (2nd Place)
Category: Malarayat OTS (On-the-Spot Contest) "2nd Place"
Category: Creative Lighting Wedding Day (3rd Place)
Category: Wedding Entourage (3rd Place)
There you go! You have just read the Top 5 Things You Need to Know about Mr. Danny Ignacio, one of the greatest wedding photographers of our time.
If there's one word that would best describe Vignette Photography, it would be EXCELLENCE. It is because this team headed by Mr. Danny Ignacio is dedicated to providing its customers the excellence they have not yet experienced before by doing 2 things: giving excellence in every project and continuing efforts to harness or improve their current skills level.
Aristotle once said, "We are what we repeatedly do. Excellence, then, is not an act, but a habit."
If you want your great magical moments be captured by Mr. Danny Ignacio and his team, you may contact Vignette Photography directly through their Facebook Page.