People fight. It could be in the form of a simple quarrel or argument; a campaign or determined effort against somebody or something as in advocacies; in the form of sport as in boxing, karate, taekwondo or mix martial arts (MMA); or even in the form of war or battle. Whenever people fight, they contend to overcome somebody or something. Whatever the form of the fight is, overcoming the other party comes in varying forms of battle. It could be a battle of words (harsh or heated), blows or strikes or even weapons.
Not only two opposing forces fight. Even lovers who intimately love each other do fight. There could also be lots of reasons for love birds to fight against each other. Reasons vary from a third party lover to simple reasons as coming in late or a heated discussion stemming out from what to do or where to go on a date on Valentine's Day.
I hope love remains to those of you who are into a romantic relationship.
Speaking of Valentine's Day, this special day for lovers is just around the corner. To avoid a possible fight between you and your lover, most especially if one of you tend to always dominate the other in terms of decision-making, and if you don't have any idea yet where to go or how to spend it with your love one, I suggest that you go to the UPLB Feb Fair in Los Baňos, Laguna. It is a week-long annual event done in the month of February held on the week of Valentine's Day. Check out this link for more information about Feb Fair: https://www.facebook.com/uplb.febfair/. On the other hand, you can click this link to watch the official theme song video of this year's Feb Fair. It is entitled Hulagpos by Semi-Colon PH band: https://www.facebook.com/uplb.febfair/videos/279383339691397/.
Here are the top four (4) reasons why.
1.Location
One of the reasons why going to UPLB Feb Fair is recommended for your Valentine's Day date is because of its location. UPLB is located at the foot of Mt. Makiling, the legendary dormant volcano at the border of Laguna and Batangas provinces. This premier university sits on lush forest with huge, century-old trees, vast green grass and a mix of old and modern style buildings. Because of its serenity, you and your lover can enjoy fresh air, calming sceneries and the peacefulness the place brings.
The Feb Fair is located exactly at UPLB's Freedom Park. It is where families and friends – and lovers as well, hang out during weekends for picnic, jogging, walking, kite-flying, biking, and many more.
Are you already dreaming about the place?
2. Food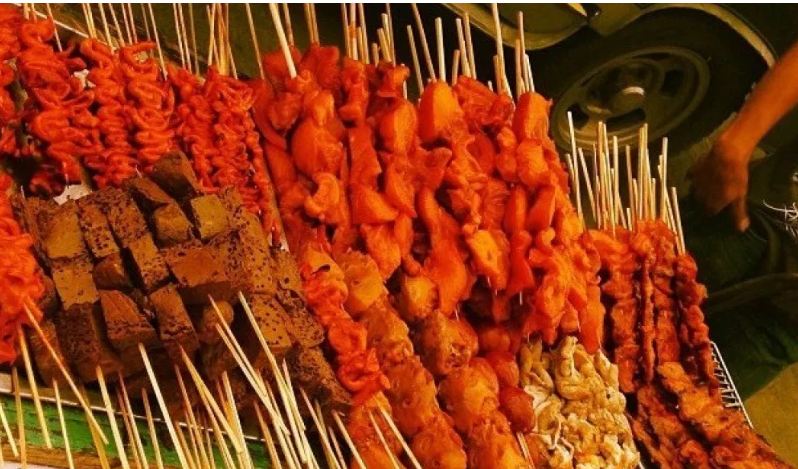 At UPLB's Feb Fair, you can find lots of good food at very reasonable prices. Food choices range from street foods like "isaw", grilled corn, hotdogs, Shawarma as well as rice plates, desserts and international food prepared by students from various countries.
So, if you want to try something new this Valentine's Day, you can have a simple dinner served at the romantic backdrop of Mt. Makiling.
3. Concert
One of the highlights of this annual Feb Fair event is the concert. You can catch various performances almost every night. As the event caters to local talents, mostly UPLB students, you can witness how these talented bands and artists perform and start their musical debut. You'll be surprised at how good these local musicians are. But then of course, the event organizer also invites talents from the Metro depending on who they want to perform and of course, depends on the budget they have. You know, some artists are expensive and some are not.
4. Fight
Yes, you read it right. There's a fight happening during Feb Fair. It is called Battle Royale, an annual MMA (mix martial arts, just in case you forgot what it means) event organized by the Beta Sigma Fraternity. On February 14, 2020 (Friday) at 7pm, eighteen (18) MMA fighters from different weight classes and coming from different areas (Metro Maniila, Calabarzon and Region 2) are going to exchange blows, punches, kicks, and grapples to overcome their respective opponents on stage. This year is Beta Sigma's 9th rendition of said MMA event.
There are two (2) good reasons why you and your lover should go to Battle Royale.
One, you will get to support the social causes of the event. This year's edition is dubbed as "Fight for #Social Good". The event is aimed at not only staging the talents and skills of the MMA fighters but to also raise funds for the victims of the Taal Volcano eruption and for the annual charity event of Beta Sigma called "Operation Big Brother", which is aimed at reaching out to less privileged children in Los Baños.
Two, you will get a 50% discount on your partner's ticket if you go there with your lover. That's a huge saving which you can use for something else on your V-Day date! Tickets are priced at PhP 200 for VIP and PhP 150 for Upper Deck. Since tickets are cheap, you can ask your friends to come along for more fun and excitement.
Visit their Battle Royale's FB page for more details.
So, there you go! You've got four (4) good reasons to make your Valentine's Date awesomely unique and simple yet memorable. Not only that, you will also get to help the victims of Taal Volcano eruption and the children in Los Baños.
Wanna earn rewards/points and cash by rippling and sharing cool events, promos and campaigns online? Then sign-up on www.tripplesph.com NOW!