What will you do with the money if you receive PHP 500,000?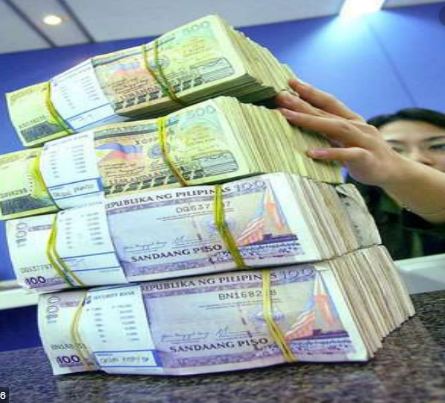 Well, the reason why I asked is because PHP 500,000 is at stake at this year's Wedding Expo Philippines (WEPS), the BIGGEST and GRANDEST Wedding Fair in Asia!
Organizing this 35th edition of WEPS at the SMX Convention Center on September 7-8, 2019, Themes and Motifs is looking for this year's Grand Prize Winner of PHP 500,000.

Could this be you? But if this would be you, what would you do with the money?
This is a very practical question everyone would like to answer or at least think about. Some may respond to this question instantly, especially those who are well-versed with financial management or those who are into business, stocks and investments, among others. On the other hand, others may need some time to reflect, especially those who are first-timers in handling such amount of money.
What about you? What would you do with it?
Here are some tips which you can choose from should you be this year's lucky winner of the PHP 500,000 Grand Prize at the WEPS 2019.
Put it in a Bank's Time Deposit
There are different types of bank accounts available. They are classified into: a) Current Account; b) Savings Account; c) Recurring Deposit Account; and d) Fixed Deposit Account. Time deposit is under Savings Account.
Time Deposit is defined as "a deposit in a bank account that cannot be withdrawn before a set date".  Given the definition, the money deposited in this kind of account is locked in within the period of time determined by the depositor. It could be 30 days, 60 days, 90 days, 180 days or 360 days with an option of rolling it over again when the preferred time lapses.
Should there will be a time and an occasion wherein the depositor really needs to withdraw the money or a portion of it, he or she will have to pay a fine.
So, how does it differ with the regular savings account? Time Deposit and regular Savings Account differ in interest rates and holding period or placement term. Interest rates are higher in nTime Deposit than in regular Savings Account. However, the money cannot be withdrawn in Time Deposits until the money reaches maturity or the desired time period while money deposited in regular Savings Account can be withdrawn anytime. Therefore, in Time Deposits, the higher your deposit is and the longer the placement term is, the higher the interest rate.
Time Deposits are available for local (pesos) and foreign currencies (US dollars, Euro, Yen, Pounds, among others).
So, if you do not know yet where to put your PHP 500,000 or whatever amount, you may put it in a Time Deposit account.
You may go to the banks nearest you for more details or you may check this link for the latest Time Deposit rates: https://philpad.com/latest-time-deposit-rates-in-the-philippines-per-bank/.
Buy a Car or a Utility Vehicle
Cars and utility vehicles may be necessary to some, but to others they are not. While others find these vehicles useful in their day-to-day lives (E.g., Families who need to drop off and pick up children to and from school while the parents would go to work) or in their business operations (E.g., Businesses which need to pick up and deliver goods), others who live a simple life don't.
Well, if you are the type of person or businessman who needs a ride, you can make use of the PHP 500,000 grand prize that you could win to buy a car – whether brand new or second hand or buy a utility vehicle.
Just remember that petrol prices in our country is relatively higher than our neighboring countries like Malaysia, so, you would better think twice or ask yourself whether you really need it or not.
Once you are already decided, you may check this link for some ideas that suit this budget: https://www.autodeal.com.ph/cars/search/1-500000?sort-by=alphabetical&page=1.
Invest in a Business
Meanwhile, if you are the business type of a person, you may treat that amount of money (PHP 500,000) as your seed or capital to a business you are interested in.
There are different kinds of business. Nowadays, in the advent of modern communication technology such as Internet, one or Juan can start an online business offering freelance services ranging from writing, English language education, video editing, graphic design, virtual assistant, among others. If you have the guts and skills in providing such services, investing in an online business is one good option for you. All you need to have, apart from the skills, include your time, fast Internet, and online resources which you could tap to get started.
Here is a link which offers you choices not only for online businesses but also other ideas within your "capital" of PHP 500,000: https://www.imoney.ph/articles/best-ideas-business-opportunities-philippines/.
Relatedly, there are businesses wherein you capitalize or treat as springboard established names or brands for you to earn money. This is called Franchise. Google defines Franchise as, "an authorization granted by a government or company to an individual or group enabling them to carry out specified commercial activities"
So, if you are a fan of popular brands ranging from fast food chains, coffee brands, and food kiosks, among others, you can bring them in your desired strategic location and earn profit by using their license.
Check out this link for more franchise ideas: https://grit.ph/best-franchise-business/.
Invest or Trade in the Stock Market
This option is complicated especially for those who know nothing in the stock market, investing and trading. If you are not well-versed in these areas, you'd better skip this.
However, if you are risk-hungry and adventurous to some extent but would also like to explore this option, you may read further.
What is Stock Market anyways?
Before we delve into the meaning of Stock Market, let us understand first what "Stock" is. Google defined it as "the capital raised by a business or corporation through the issue and subscription of shares".
If that is the case, what is a "Share" then? It is one of the equal parts into which a company's capital is divided, entitling the holder to a proportion of the profits (Google).
So, "Stock Market" is a place where shares of pubic listed companies are traded by floating shares to the general public in an Initial Public Offering (IPO) to raise capital (The Economic Times).
Now that we have understood these key terms (stock, share, stock market), we can now dig deeper into the ins and outs of investing and trading in the Stock Market.
Investing in the stock market is buying stocks in the Stock Market for long term gains. In the Philippines, the Philippine Stock Exchange or PSE lists down companies which offer their share to the public. You can find the Top 30 companies listed in the PSE here: https://philpad.com/list-of-companies-in-psei/.
Buying stocks could be done through various means such as doing it yourself in person, calling a broker or a brokerage firm, or by signing up and buying online through an accredited online broker. Here is the link to the list of accredited online brokers: https://philpad.com/list-of-accredited-online-trading-brokers-in-the-philippines/.
Meanwhile, trading stocks is buying and selling stocks and holding them over a short period of time to gain profit. Profit is obtained by focusing on the prices of the shares. Traders buy at a low price and sell it a higher price over a short period of time. Then "tadah!".  Profit is gained in an instant.
Trading is riskier thus it is only done by the masters or professional traders and not by beginners. So you'd better be careful when doing this.
Divide into Multiple Purposes
Lastly, you can divide the money into 5 with PHP 100,000 each – time deposit, brand new motorbike (instead of car/utility vehicle), small business investment, stock market investment/trading and the fifth one either putting your money in a mutual fund, which as per Google is an investment program funded by shareholders that trades in diversified holdings and is professionally managed. Find out more about Mutual Funds here: https://www.moneymax.ph/personal-finance/articles/mutual-funds-investing/.
By dividing your money into these 5 items, you are diversifying your portfolio into many possible sources of income – letting your money work for you.
One curious guy in a certain social media platform chat room posted a question on what to do with the same amount of money. Two of the many suggestions or pieces of advice he received were to divide the money into equal bundles of PHP 100,000.
So, if you are to take this option, you might be on the same direction or fate with that guy.
But Wait! There's more.
If and only if you are not convinced of the 5 options mentioned above, you can just simply make use of the PHP 500,000 in paying your wedding suppliers! That's a pretty decent amount of money to spend for your big day with your closest friends and love ones, isn't it?