[VIRAL] WANTED: Winner of the PHP500,000 Grand Prize at the Grandest and Biggest Mid-Year Wedding Fair
The country's acclaimed wedding fair authority, Themes and Motifs is looking for the winner of the PHP 500,000 grand prize at the Grandest and Biggest Mid-Year Wedding Fair, The Philippine Wedding Summit or PWS 2019
Yes, you read it right! That is PHP 500,000! That's a big amount of money, right? And it can really be a big help to your wedding preparation.
"What can I spend for my wedding with that amount of money?", you may ask yourself.
With cash amounting to half a million pesos, you can already have all the expenses for your wedding taken care of! Even your honeymoon could also be covered. Yes, that's true.
When my wife and I got married a few years ago, we spent a little more than that. But we had a staggering number of guests – 300++ pax! We also had our reception at the foot of the mountain, which needed to rent a mini bus to transport guests who did not have cars that time or their cars would not be able to reach the venue.
So, let us say we just add a little extra for the inflation rate, and let us say you only have 150 to 200 pax, that grand cash prize is more than enough to have your dream wedding come true.
So, what are you waiting for?
To help you further, we have listed down a few wedding suppliers that might help you plan whether or not you will be the lucky winner. There are a lot of suppliers for all your needs but here is our Top Six Major Suppliers where you can start off.
1. City of Dreams, Manila
Does this look like something you'd want for your wedding reception?
Make it all happen with City of Dreams Manila — One of our major sponsors for the upcoming Philippine Wedding Summit happening on June 22 & 23
Everyone is a winner with Dream Lucky Draw. Items up for grab are the following:
Overnight Stay in Nuwa Hotel with breakfast for (2) persons
Overnight Stay in Nobu Hotel with breakfast for (2) persons
60-minute massage at Nuwa Spa for (2) persons
60-minute massage at Nobu Spa for (2) persons
Php5,000 worth of F&B credits during stay
Complimentary (100) glasses of iced tea during event
Dreamplay passes for (2) persons
Bottles of our House Pouring Wine (red or white)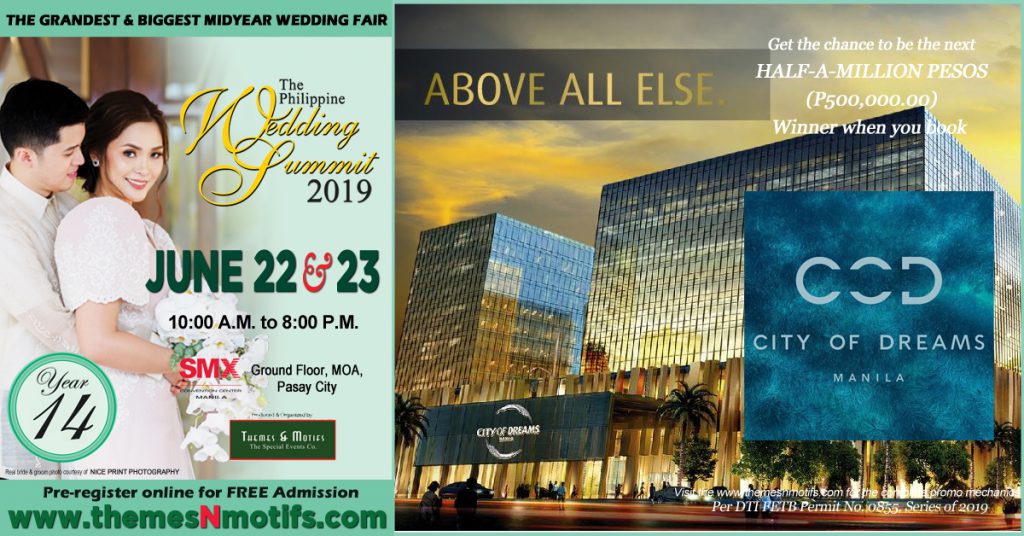 Website: https://cityofdreamsmanila.com/
Email: guestservices@cod-manila.com
2. Hizon's Catering
Grand food tasting weekend with one of the most sought after wedding caterers. Experience top caliber menu & masterpieces and the finest example of banquet styling from Hizon's Catering on June 22 & 23, 2019
For more than 30 years , Hizon's catering has been blessed to be a part of thousands of weddings, debuts, kids parties, corporate events, and private celebrations. In all these events, we make sure we are not only your caterer but more importantly your partner in every step from conceptualizing, budgeting and planning up to final execution.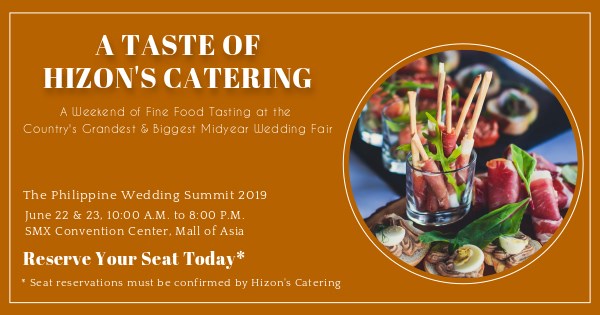 Address: 22 Renowned Lane Sanville Project 6, Quezon City
Contact: +63906-510-69-47/ +63928-488-62-60
Website: https://hizonscatering.com
3. Nice Print Photography
To love a person is to see all of their magic and to remind them of it when they have forgotten. Create more magical moments with Nice Print Photography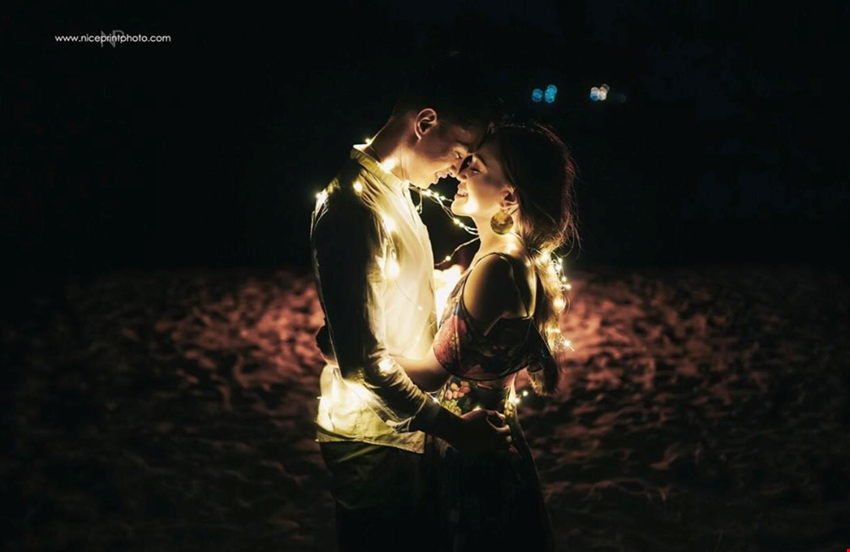 Nice Print Photo Company is one of the leading, fast-rising companies in Digital Photo and Video Services.
Address: 604 Shaw Blvd, Pasig, 1603 Metro Manila
Contact: (02) 636 5505
Website: http://niceprintphoto.com/
4. Goldenhills Jewelry
Goldenhills Jewelry aims to create "Wearable Work of Art at Their Very Best." Proud to showcase Philippine ingenuity and craftsmanship, Goldenhills aims to provide you with "Wearable Works of Art at Their Very Best." More than just jewelry, they strive to offer you art.
5. Henry Pascual Event Styling
Did you know that on top of all the exhibitors present at The Philippine Wedding Summit 2019, the one and only @henrypascualeventstylist is also offering a wedding styling seminar — one for soon-to-weds & one for professionals — completely for FREE?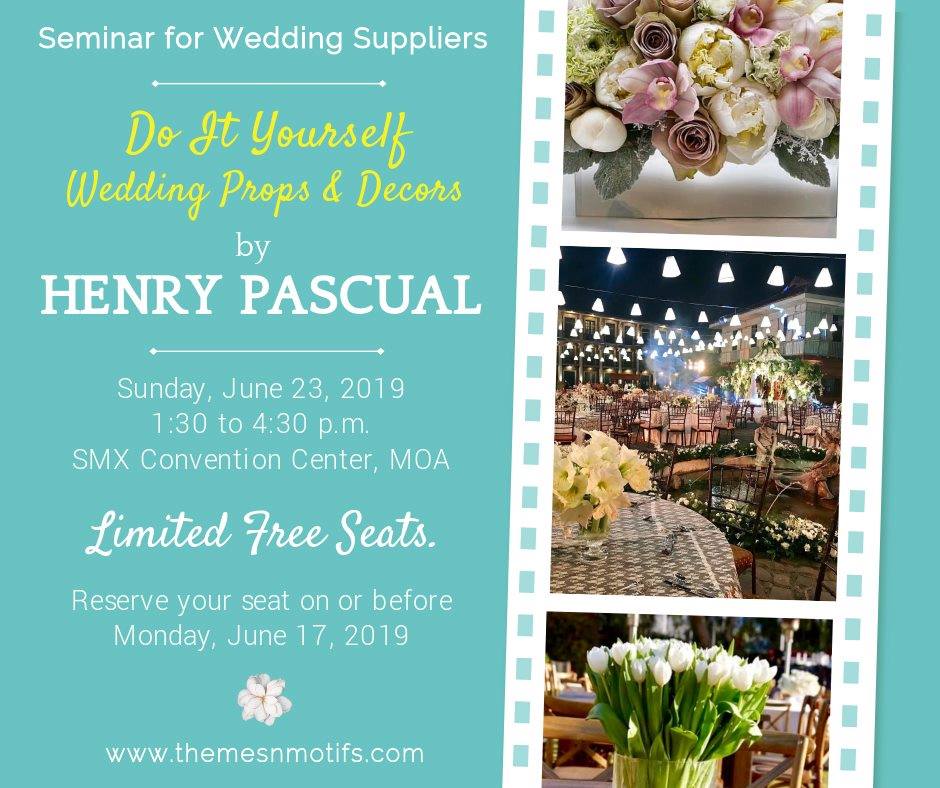 HENRY PASCUAL, Owner & General Manager of Henry Pascual Event Styling, one of the country's most sought after and most creative event styling geniuses will share his expertise and talent to visitors of The Philippine Wedding Summit 2019 where he is the Official Event Stylist.
For Soon-to-weds:    Find out the trends and  what style can work for you on your Big Day.  Let top rated style meister Henry Pascual show you actual samples and give you special advice during this seminar.  (Available slots:  50 seats only;  1:00 – 3:00 pm)
For Wedding Professionals:  Do It Yourself Props (DIY).    Find out how to add that extra flavor of uniqueness and individuality through props and accessories created by you.  Let The Master Creative Genius Henry Pascual show you how in this seminar.  (Available slots:  50 seats only;  1:00 pm – 4:30 pm)
Address: Unit 901 Sofia Tower, 85 Don A. Roces Avenue, Barangay Obrero, Quezon City, Metro Manila
But wait there's more, you can also earn while preparing for your wedding.
Earn extra money online for your wedding preparations when you sign up at www.tripplesph.com
Once you sign up, you become a Rippler and you can start sharing/rippling your choice of campaigns. You can earn money whenever your friends visit your rippled campaigns on your social media accounts.
Website: www.tripplesph.com
Contact: 0921-508-6592 and 09215086584/ 0927- 864-9404
See you there!
If you want this and more, see further details here: WEDDING SUMMIT 2019