Krispy Kreme International Chocolate Day Promo
Krispy Kreme International Chocolate Day Promo July 2020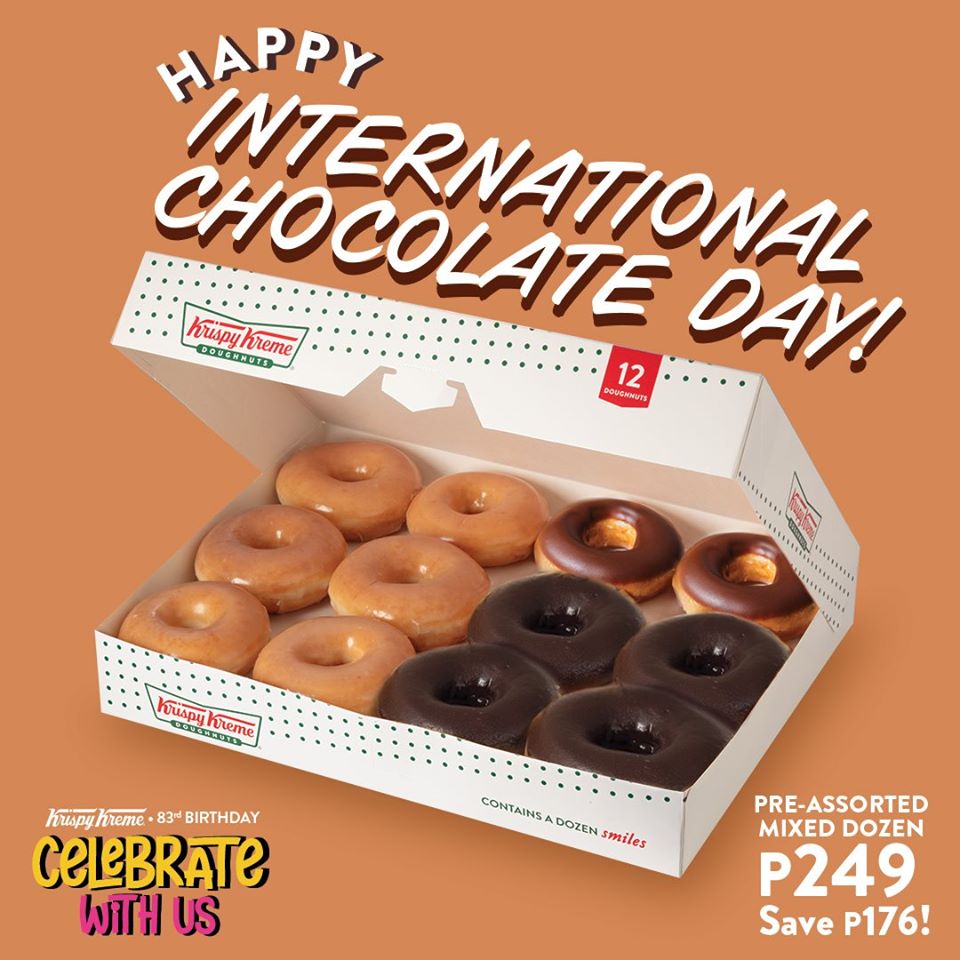 July 6-9, 2020
Krispy Kreme Stores Nationwide
Brace yourselves for a chocolatey treat as we celebrate Happy International Chocolate Day! From July 6 to 9, celebrate by grabbing and sharing a box of 6 Original Glazed and 6 pre-assorted Chocolate Doughnuts for only P249! Save P176! (Exclusive of delivery fees.)
Mechanics:
1. Buy 6 Original Glazed, 4 Dark Chocolate Glazed and 2 Ring-filled Chocolate Iced Kreme then get it for only P249! Save P176!
2. Promo is valid from July 6 to July 9, 2020 only, until supplies last.
3. Price is exclusive of delivery fees.
P299 for delivery orders made through 888-7900 or https://now.krispykreme.com.ph
P299 plus 10% delivery fee for orders made through Hotline+.
4. Promo is valid for Dine-in (if available), Take-out, Drive-thru, In-store & Curbside® Pick-up, and available in Delivery when you order through 888-79000, https://now.krispykreme.com.ph or Hotline+. Terms and conditions apply.
5. For Hotline+ areas catered, please visit https://bit.ly/krispykremehotline for more information.
6. Valid in all Krispy Kreme stores except for Makati Medical Center, SM Mall of Asia Arena and Airport Stores.
7. Then again, promo is not valid in any conjunction of promo or discount.
8. But maximum of 2 sets per transaction per person.
Per DTI Fair Trade Permit No. FTEB- 101594 Series of 2020.
In the purchase of goods and services which are on promotional discount, hence, the senior citizen can avail of the promotional discount, or the discount provided under the Expanded Senior Citizens Act of 2010 whichever is higher.
Wanna earn rewards/points and cash by rippling and sharing cool events, promos and campaigns online? Then sign-up on www.tripplesph.com NOW!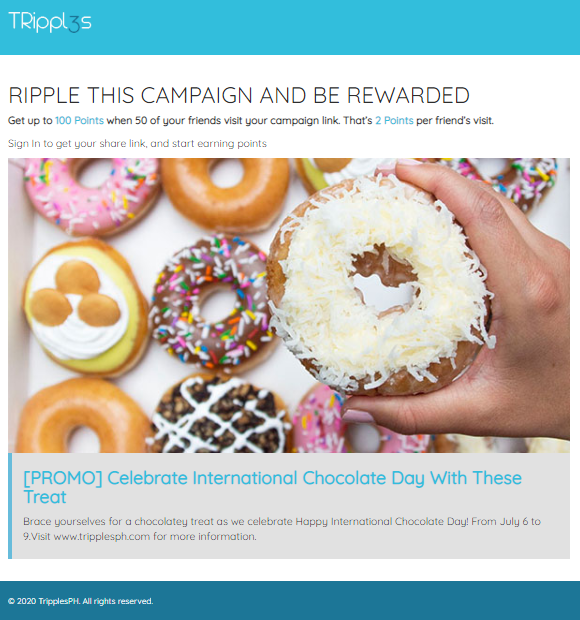 Read: Foodpanda And Globe Creates A Wonderful World For The Riders