Every October 13, the world celebrates the International Day for Disaster Risk Reduction.
This year, our country has experienced various kinds of natural disasters. Right at the beginning of the year, in January, Taal Volcano erupted. The eruption hit Southern Luzon, particularly Batangas province, badly. Thousands of Batangueños were displaced. Thanks to the Bayanihan spirit of our fellow Filipinos. They gave refuge and relief goods to the victims of the eruption. A few months later, the COVID-19 pandemic came. Since then, it has brought fears and dilemmas, which put not only our country but the whole world into a crisis. So far, 2020 has been a challenging year.
Now, we have entered the time of the year where consecutive typhoons often happen. Now more than ever, we need to be vigilant and prepared.
What is Disaster Risk Reduction?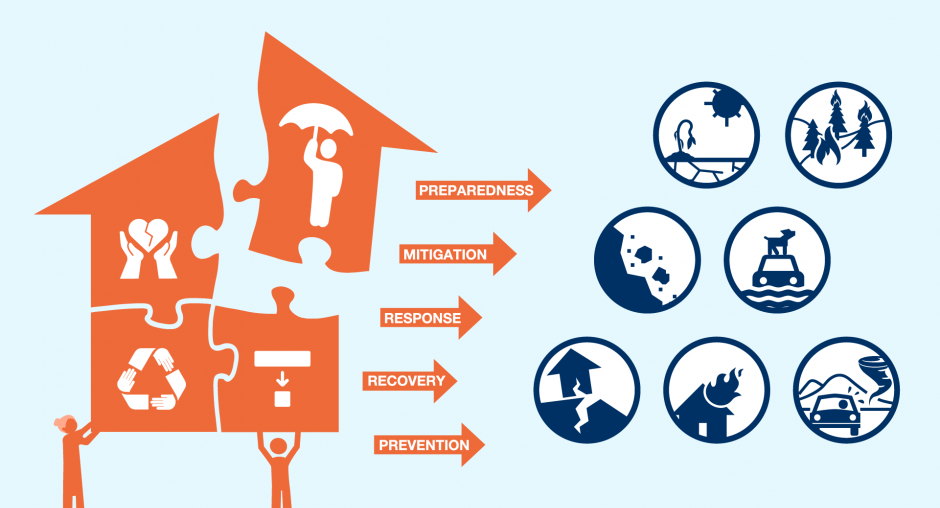 Disaster Risk Reduction (DRR) aims to reduce the damage caused by natural hazards. For example, earthquakes, floods, typhoons, droughts, among others cause economic impacts or even worse mortality. National and local government units need to identify and plan out how to reduce said impacts. When disasters come, said plans have to be carried out. Moreover, by analyzing and making solid plans to reduce the effects of disasters, it lessens the danger to people and their properties. In other words, DRR is a systematic and practical way of identifying and addressing the effects of disasters. Its end goal is to reduce the damage that said disasters may cause.
International Disaster Risk Reduction Day
"The more governments, UN agencies, organizations, businesses and civil society understand risk and vulnerability, the better equipped they will be to mitigate disasters when they strike and save more lives"

— Ban Ki-moon, United Nations Secretary-General
The International Day for Disaster Risk Reduction started in 1989 after a call by the United Nations General Assembly. Furthermore, it is a day where people promote a global culture of risk-awareness and disaster reduction.
As cited above, the world celebrates it every October 13. It is dedicated to celebrating the global practice of reducing exposure to disasters. Additionally, the day also aims to raise awareness about the importance of planning for the risks brought on by natural disasters.
This 2020, the international day focuses on governance.
You can measure good disaster risk governance in lives saved, reduced number of disaster-affected people, and reduced economic losses. COVID-19 and the climate emergency are telling us that we need a clear vision, plans, and competent, empowered institutions acting on scientific evidence for the public good.

United Nations on Risk Reduction
Making Cities Resilent
Year after year, Filipinos have proven the people's resiliency even in the face of natural disasters. Over the years, we continue to rise and stand despite the damages brought on by natural disasters. That is our unique characteristic that other countries deeply admire about us.
This year, however, it has become harder due to the coronavirus pandemic. In addition to natural disasters, we are also facing a pandemic which brings health risks and economic damage to our people.
Thus, DRR implementors push measures to make cities more resilient. Moreover, in the Sendai Framework for Disaster Risk Reduction, it states that cities are the frontlines in dealing with disasters.
DRR is Everyone's Responsibility
DRR involves every part of society, every part of the government, and every part of the professional and private sectors.
For years, we have always tried to be resilient against natural disasters, but we should also ensure that every fragment of the society is prepared for it. On top of being resilient, different members of the society should also cooperate with DRR implementors to ensure our safety.
Helping Build Society's Resilience
In helping fellow Filipinos to be more resilient and prepared for the storms of life, TRipples offers various projects to help as many Filipinos as possible.
TRipples is the Philippines' digital marketing company that creates positive ripple effects. Moreover, it has a unique platform where its online users can earn cash and rewards. Sign up here to know more.
There are many digital marketing companies out there. But what makes the said company stand out? Basically, it stands out because of its Unique Selling Points (USPs) called 4Cs:
CPC Technology proven effective in driving online traffic
Community of online users and clients
Compensation of our online users with cash and rewards
Corporate Social Responsibility (CSR) that helps the government and non-profits in creating awareness about their advocacies and programs.
Get in touch with us now to help victims of the pandemic and your business. Create ripple effects in the society with us. Ask us how.
Read: Balikbayan OFWs Turned Technopreneurs
TRipples Launches "Oplan Big Bro" To Help Fight COVID
Oplan Big Bro: Bayanihan In The Time Of COVID-19