In this digital era, mobile and web applications are the faces of consumer engagement. Moreover, businesses survive and thrive by reaching their target market online. If you're a business or an individual looking to promote their hustle, then this article is for you. Here is a list of the top web and mobile app developers in the Philippines.
1. TRipples
TRipples is the Philippines' digital marketing company that creates positive ripple effects.
Furthermore, they are the pioneer in Cost-Per-Click (CPC) acquisition technology. CPC allows driving more traffic on websites or Facebook pages and lets people know your company exists. TRipples also offers Content Marketing, Social Media Marketing, Online Advertisements, Website Development, Search Engine Optimization.
TRipples has over 1M community members which consist of Ripplers and Dripplers; the BIGGEST online community of social media writers, bloggers, and businesses. They ensure that their advertisements and campaigns get around through the use of Word-of-Mouth strategy, which ensures that people can trust it more since it comes from people they know and trust.
Not only do they offer different marketing packages and interaction with fellow community members, but in addition they also create mobile applications and offer website development. Here are a few of their examples:
RunningMan.my is an Online Food Delivery application in Malaysia. Moreover, it is an application that is similar to Grab, Lalafood, or any other similar food delivery app in the Philippines. It features various food menus from different restaurants.
Animal Neighbours Project was a wesbite developed by TRipples and is dedicated to increasing the awareness about coexisting harmoniously with wildlife.
2. Yondu
Yondu, Inc., first called as the Entertainment Gateway Grou (EGG) started in 2001. Despite only having a few employees, Globe Telecom acquired their company due to their terrific performance.
Moreover, Yondu is one of the top IT players in the Philippines. They deliver solutions to difficult challenges and promote going digital.
The company offers software development such as:
Web Application Development
Mobile Application Development
Systems Integration
Business and Productivity Software.
Finally, you can contact Yondu at info@yondu.com.
3. iManila

iManila, short for Internet Manila was founded way back in 1996. The company has worked tirelessly through the years and up to this day still continue to provide in-demand web solutions.
Furthermore, the company believes in providing exceptional Information Technology (IT), web, and digital solutions to their clients.
iManila also offers a lot of services for their web and apps-related services. For more information, contact their email info@imanila.ph or check out their website here.
4. 7th Media Digital Studios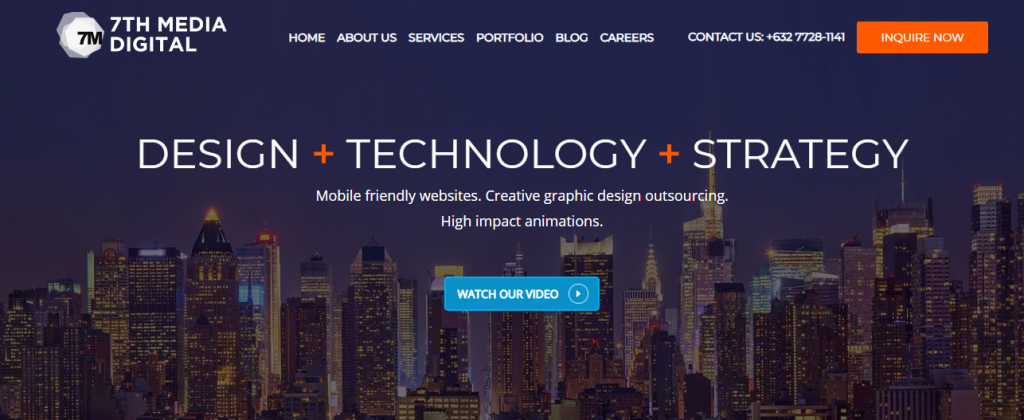 7th Media Digital Studios is another web and mobile developer in the Philippines. For them, they value design + technology + strategy.
Moreover, the company offers a variety of services such as:
Web design
Web development
E-learning
Graphic design
Animation explainer videos
Digital marketing
Remote staff outsourcing.
Finally, you can contact them through their numbers+632 7728-1141 or +632 7625-8745.
5. iConcept Global Advertising
iConcept Global Advertising started out as the IT arm of its now sister company, iBrains. Finally, in 2009 the department has branched out to become the company it is today.
Furthermore, here is a list of the services the company offers:
Website design & development
Mobile apps developmen
Graphic design & motion graphics
SEO and search engine marketing
PPC
Social media marketing,
Content marketing
To contact iConcept, reach them through their numbers +63 2 5194810 or +1 888 457 4497. Lastly, you can also send them a message here.
Philippine Web And Mobile App Developers?
Certainly, this list is only a few of the top web and mobile app developers in the country. However, if you're looking for one or interested in knowing about them, then you may check out these companies that we have mentioned.
Moreover, it has been quite obvious that the influx of internet web and mobile users has risen dramatically over the years. Furthermore, this is definitely a reason for businesses and other promoters to change their strategy in reaching out to the public.
In promoting this article, TRipples encourages people to explore the world of web and app development. Moreover, since the company believes in spreading positive ripple effects, we must of course do it effectively. What better way to do that, than secure a partner with exceptional services that will help your business grow?
What Makes TRipples Unique?

There are many digital marketing companies out there. However, what makes TRipples stand out? Basically, it stands out because of its Unique Selling Points (USPs) called 4Cs:
CPC Technology proven effective in driving online traffic
Community of online users and clients
Compensation of our online users with cash and rewards
Corporate Social Responsibility (CSR) that helps the government and non-profits in creating awareness about their advocacies and programs.
Get in touch with TRipples today and let us create ripple effects in the society, together.
Read more: Cost-Per-Click (CPC): A Quick Guide
Oplan Big Bro: Bayanihan In The Time Of COVID-19
COVID-19 Projects Relive Pinoys' "Bayanihan Spirit"