Bring Back Good Memories with Sarah's Bakehouse Desserts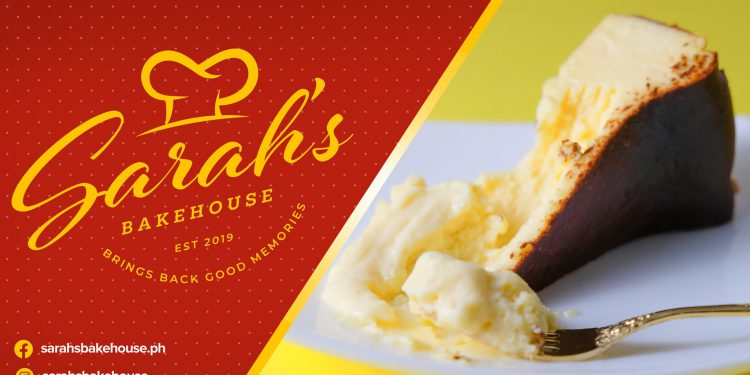 Sarah's Bakehouse was established in 2019. It has been loved by famous personalities and common Juan Dela Cruz's since then. Moreover, each product they bake uses only the most premium ingredients
Check out these delectable treats that brings back good memories fresh from the oven. We have listed below some of the must try desserts from the store.
1. Sarah's Bakehouse Burnt Cheesecake
One of the Bakehouse's most famous products, every cheese cake is burnt to perfection. Furthermore, Sarah's burnt cheesecake perfectly melts in your mouth with every bite. Above all, it is light, creamy, and gloriously caramelized with a smooth gooey velvet center.
You can have one immediately for only P840 for the regular size which serves up to 7-10 pax. Moreover, you can also order it large for only P1440 which serves 12-14 pax.
It certainly is a dessert perfect for any and every ocassion. Moreover, it is a definite must try!
2. Special Egg Pie
Definitely one of Sarah's Bakehouse Bestsellers, their egg pies are creamy with a perfectly baked crust. Try their own twist of this classic Filipino dessert that will certainly bring back good memories.
Sarah's Bakeshop even donated a batch of egg pie slices to our medical front liners for their tireless effort of serving us Filipino people. Moreover, you can avail these delicious egg pie goodness for only P480 (9-inch pie).
3. Sarah's Bakehouse Brownies
Full of fudgy and chocalatey goodness, these brownies are simply addicting! You certainly won't get enough of these delicious brownies.
Sarah's Bakehouse offers two variations of this delectable treat. Each box contains 8 brownies. Chocolate Pecans Brownies are perfect for nut-lovers for example and can be ordered for only P320. Meanwhile, you can order plain but fudgy Chocolate Brownies for only P260.
4. Sarah's Cheese Rolls
Perfect for cheese lovers, Sarah's cheese rolls are simply cheesy and extremely yummy! Moreover, each bun tastes ridiculously good and fluffy. Taste the fluffy goodness for as low as P49 per piece.
5. Ensaymada
Sarah's take on the classic Filipino favorite ensaymada are baked with love. In addition, each batch are fresh, extremely soft and fluffy. For as low as P69, you can taste this delectable treat.
Even Celebs Love Sarah's Bakehouse!
Here are a few of the celebrities who boasted about their love for Sarah's Bakehouse. Moreover, each of their products are truly a must-try that even famous personalities recommend.
1. Ivana Alawi
2. Sarah Lahbati
3. Kris Bernal
4. Kiray Celis
Ready To Indulge Yourself?
Order now from Sarah's Bakeshop and browse through their menu full of delicious pastries.
Contact the bakeshop now by sending a DM on Viber (639175156542) or email them at sarahsbakehouse.ph@gmail.com. Furthermore, you can also send a message on their Facebook page and Instagram account.
For deliveries in Metro Manila, it can be done via Grab/ Lalamove. Furthermore, they accept payments through Metrobank/ BDO/ GCASH. Contact them today and enjoy yummy and irresistible pastries.
Create Ripple Effects with TRipples
In promoting and supporting local products and services, Sarah's Bakeshop has partnered with TRipples, the Philippines' digital marketing company that creates positive ripple effects. Moreover, it has a unique platform where its online users can earn cash and rewards. Sign up here to know more.
There are many digital marketing companies out there. However, what makes the said company stand out? Basically, it stands out because of its Unique Selling Points (USPs) called 4Cs:
CPC Technology proven effective in driving online traffic
Community of online users and clients
Compensation of our online users with cash and rewards
Corporate Social Responsibility (CSR) that helps the government and non-profits in creating awareness about their advocacies and programs.
Get in touch with TRipples today and let us create ripple effects in society together.
Read: TRipples Launches "Oplan Big Bro" To Help Fight COVID
COVID-19 Projects Relive Pinoys' "Bayanihan Spirit"