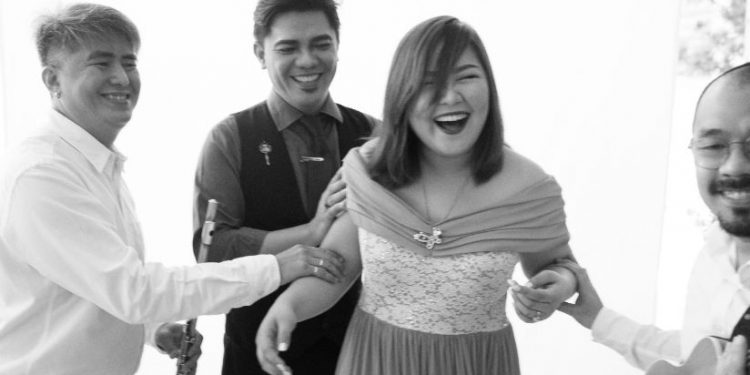 Bernie Pasamba and the Music Masters
If nowadays, there's this buzz word, "Kilay is life" following the craze among ladies – young and old – in making their eyebrows look beautiful by shaving and shaping them nicely, there's also a similar "noise" that has been going around for ages. That is "Music is life".
I believe music lovers, like Bernie Pasamba and the Music Masters can relate to this statement.
Some music lovers – young and old – can't exist for a day without listening to their favorite music. From the moment they wake up to taking a bath, on the way to school or work, while studying lessons or when at work and even before going to bed, music lovers put their favorite tunes at the background of what they are doing. Music has become part of their day-to-day living. It has become part of their life. Thus, to them, "Music is life".
There are different types of music and musicians use the term genre (/ˈZHänrə/) to refer to the different categories or classifications of music. Each genre suits the listener's taste or preference and mood. Examples of music genres include classical, jazz, pop (from the term "popular"), rock, folk, country, techno, electro, among others. Other music may fall under these genres.
How people listen to music has changed over time. In this day and age where our modern society has welcomed new technologies, listening to music has never been that easy as compared before. In the past, people listen to music over the radio, or through their big wooden stereos using vinyl or phonograph records/discs, which Pinoys popularly called "plaka". Then, songs could be heard over the airwaves through cassette tapes and compact discs. And then nowadays, people have more varied ways to listen to songs. They could either listen through the internet, desktop computers, laptops, MP3 players and even cellphones.
Not all music lovers are musicians, but musicians are definitely music lovers. However, for some musicians out there, music is also life to them but coming from a different perspective.
There are musicians who make a living out of playing music – some get to play the music they want or even their own music/songs while some have to play the music their audiences want. But whichever they are in the realities of the music industry, the bottom line is they earn money by playing music. Music is the source of life to them.
But there's another point of view to the "Music is life" phrase for the musicians and event hosts or organizers alike. An event, let's say wedding, debut, birthday, or anniversary, and many others, without music is dead.
Imagine. You are in a wedding. The bride comes in the church hallway with her expensive, extravagant wedding gown and she walks the aisle, there's no music. Dry. The wedding ceremony ends and everyone is happy because finally the bride and the groom have already officially tied the knot. Then there's no music to accompany the happiness of the couple and the people. Dry. And then everyone is seated at the Reception Hall eating a five-course buffet meal celebrating the goodness of the Lord but then there's no music at the background. Dry.
You see, music adds life. It adds life to an event or occasion. If you happen to be the bride or the groom in that wedding, you would not want or desire your big day to be dry. You would want, of course, to have the ambience be filled with music and not just music but very good and spectacular music.
There is this group of musicians who adds life to any special events. These musicians have dedicated their life to making occasions alive and memorable. Moreover, they are also known to be set apart as they are the exclusive string quartet musicians of top hotels in Manila.
The group, Bernie Pasamba and the Music Masters, is what I am talking about. This group is the exclusive music provider of the following hotels in their socials and corporate events:
| | |
| --- | --- |
| EDSA Shangri-la Hotel | New Coast Hotel Manila |
| Crowne Plaza Manila Galleria | Solaire Resort and Casino |
| Marco Polo Ortigas | Conrad Hotel |
| New World Hotel – Makati | Palms Country Club |
| Raffles/Fairmont Hotel | Bellevue Hotel |
| Makati Diamond Residences | Acacia Hotel |
| Marriott Hotel | Crimson Hotel |
| Hilton Manila | Novotel |
| | Sheraton Manila Hotel |
So, if you happen to hold your most special day – be it wedding, debut, corporate event, etc. at these hotels, you will definitely be able to catch them.
This group caters to almost any occasion and plays music coming from different genres for different age groups – from the Baby Boomers to Gen X and Millennials to Gen Zs. They offer thousands of music from their superb repertoire. From Ballads to Church Music to Classical and Contemporary music, they could guarantee that you will experience something you haven't experienced before.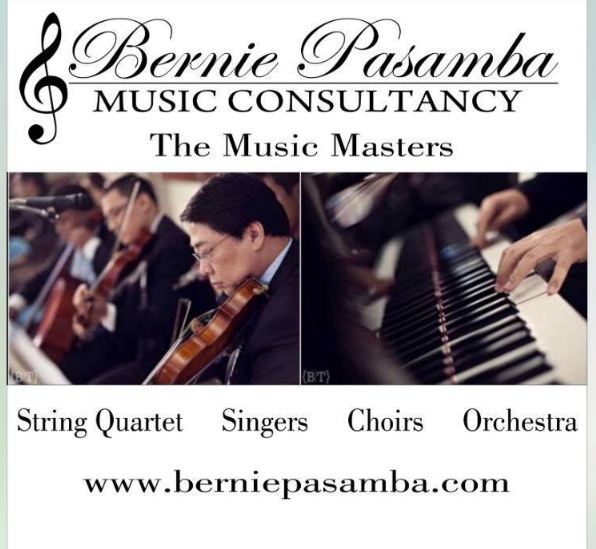 Here's a sneak peek of Bernie Pasamba's fine, top of the class music that you should not miss for your special occasion: http://www.berniepasamba.com/videos/.
Check out what people who have experienced their magical music have got to say about Bernie Pasamba: http://www.berniepasamba.com/reviews/.
For more information or for your queries, you may contact them directly: http://www.berniepasamba.com/contact-us/.